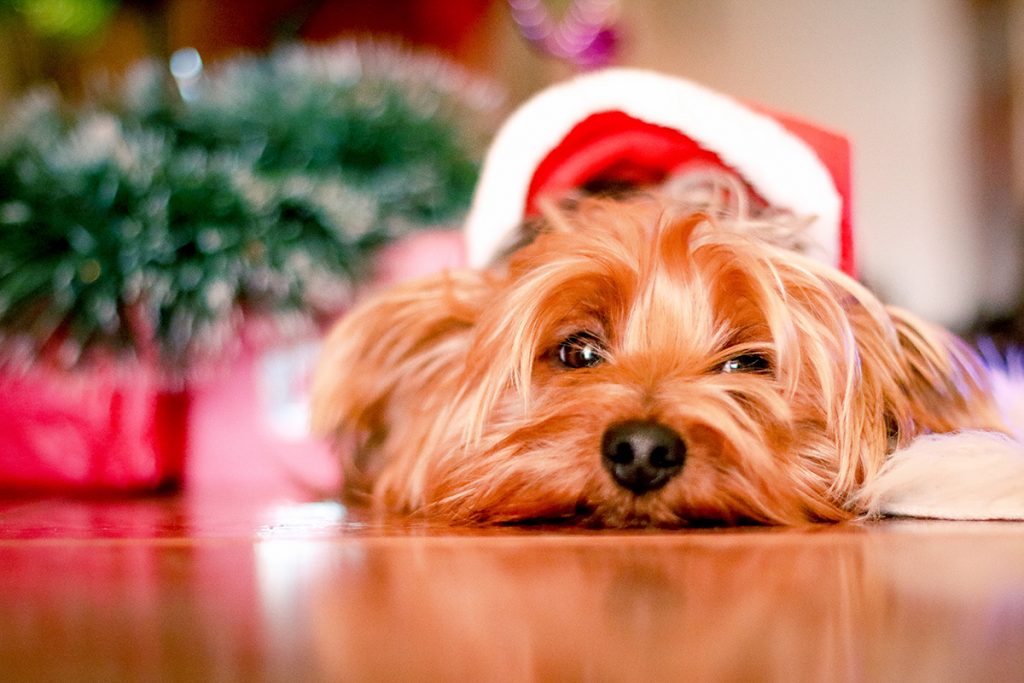 It's that time of year again! The time to deck the halls for the holidays! If your family has expanded to include a new puppy, it is important to think about Christmas tree safety. Believe it or not, your puppy may think the tree is a new toy. The attraction to hide beneath the branches to chew on the decorations is only natural. By taking some simple precautions you can prevent your tree from becoming a toy and keep your holiday season merry for the whole family.
Puppy Proofing
With twinkling lights and ornaments that move or make noises, the tree is full of new things for them to investigate or chew. Garland even offers the allure of a great game of tug-o-war. However, with all of the decorations and lights, there are some things you need to look out for. If chewed, lights and wires can cause electrical shock. The water at the base of the tree may look like a drinking dish, but if the water has preservatives to keep the tree fresh, it can make your puppy sick. Also, if your puppy is teething, they will want to gnaw at everything and could even swallow inedible objects by accident.
Anything that can fit in your puppy's mouth is a potential hazard. Make sure all breakables and decorations are not on lower branches. Tinsel, tree needles, hooks from ornaments and other holiday decorations should be out of reach as they can seriously harm or kill your pet. Even edible strings of popcorn should be out of reach in case your pet eats too much or eats the string.
Blocking Off The Tree
The number one way to keep your pet safe from a Christmas tree is to block it off. Experiment with what best works for your pet. Aluminum foil is great for small dogs and cats because they don't like walking on the surface. The silver surface also can provide a festive holiday look. "Tacky mats" are another option. They're made to prevent rugs from sliding around and are another surface your pet may not like to walk on. For larger pets, try a hard plastic mat with an uncomfortable nubby surface or a clear plastic carpet runner. If tactile means do not work, try using their sense of smell. Vicks Vapo Rub is a good pet repellent, along with Bitter Apple or other anti-chew substances. Dip cotton balls in the substance and stick them in lower branches of your tree. However, be aware that some dogs may like the taste and will still chew through electric chords. When in doubt, setting up a baby's playpen or blocking off the room with a gate is another option.
---
Let Us Help Your Pet Look Their Holiday Best!
Suds N Hugs is an all natural pet grooming service for any dog, no matter the size! Here, we treat your pets like family. Our expert groomers will groom from nose to tail using all-natural products that will gently clean the skin and coat without stripping away the natural body oils. This will re-moisturize and condition the skin and coat. Your dog will feel good, look good, smell good and look forward to their next visit!